Kenya rethinks Nairobi Park railway project
Kenya reconsiders controversial route ahead of major ivory burn in Nairobi.
Controversial plans to allow a rail line to pass through the Nairobi National Park have been abandoned, according to local media reports, while railway authorities consider alternative options for the contentious 11-km stretch of track.
Kenya's environment ministry reportedly asserted pressure on the country's transport ministry and Kenya Railways to change the route which has been the subject of persistent international protest from conservationists since it was first announced last July.
The now abandoned 11-km track would have cut through a southern swathe of Nairobi National Park, in the Lang'ata Road area, with elevated sections, protective fencing and underpasses for animals.
The section under re-evaluation is part of a $3.8 billion, 610-km standard gauge railway from Mombasa to Nairobi, being built by the China Road and Bridge Corporation and due for completion in late 2017. It is the biggest infrastructure project undertaken in Kenya since the original colonial-era train line between the capital and its main sea port was built over a century ago.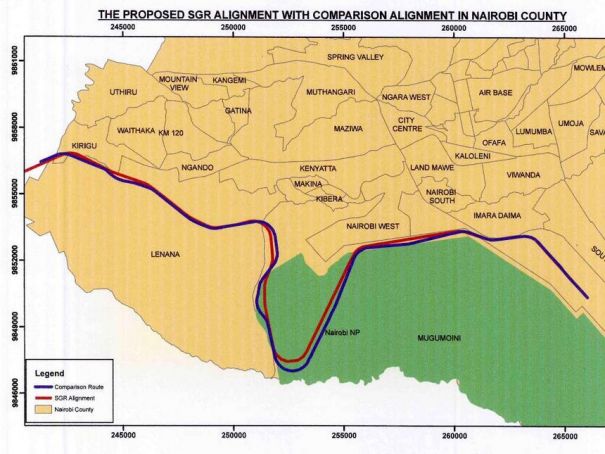 The decision to re-route the scheme coincided with Nairobi's burning of 120 tons of ivory, the largest stockpile to be destroyed in history, on 30 April.
Separately an ongoing 28-km southern bypass road project, a highway linking central Nairobi to the city's airport, has led to increasing cases of lions "escaping" from the park into nearby human settlements.
In recent weeks rangers have shot dead two lions amid reports that the Kenya Wildlife Service (KWS) may be forced to move half the park's 35 lions elsewhere as the animals' natural habitat continues to shrink. The KWS also conceded that in the future it may be required to fence off the park, effectively turning it into a naturalistic zoo.