Shudufhadzo Musida is the new Miss South Africa 2020
Musida is currently enrolled at the University of the Witwatersrand studying a BA Honours in International Relations. 24-year-old Musida sent joy and jubilation across Vhangani Village after clinching the Miss South Africa 2020 award in a glam ceremony held at the Table Bay Hotel in Cape Town.
The newly crowned Musida, advocates for an army of empowered women as another step in fighting gender-based violence. She aspires to be a pillar of beauty, resilience, and diversity. Representing Limpopo, the young champion will center her campaign on mental health, a subject that is hardly talked about in Africa. This comes at a time when October is mental health month in South Africa where there is an effort to educate the public on stigma and discrimination of those who are mentally ill. She hopes she can lead the effort to reverse some of the negative stereotypes of mental health.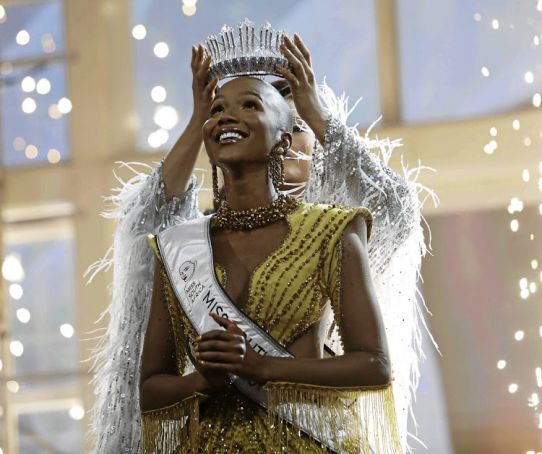 For the first time, the pageant took place in Cape Town South Africa where 10 women from different provinces vied for the top prize. The first runner up was Thato Mosehle from North West and Natasha Joubert from Gauteng took second place.
The win will see her receive R1 million as a cash prize and an additional R2 million in sponsorships and award prizes. She will have access to a luxury Sandton apartment and a Mercedes-Benz Cabriolet. Musida is taking over the reins from Sasha-Lee Olivier, the 2019 Miss South Africa.
When the finalists were announced back in August, Musida became a favorite among the fans, even winning the public vote. She hails from Ha-Masia in Limpopo a village at the Vhembe District Municipality. In a TV interview, she mentions how she underwent bullying in school.
Her education qualifications comprise a Bachelor of Social Sciences in Philosophy, Politics, and Economics degree acquired from the University of Pretoria in 2019. She is currently studying for her BA Honours in International Relations at the University of Witwatersrand. Before she took part in the pageant she had previously taken part in another pageant. In an interview with the Afternoon Express, she mentioned Zozi Tunzi as one of her inspirations to go after the crown.
She also happens to be a fashion model who began her career as early as 17. Her most iconic shots are for brands and campaigns such as Woolworths and Eucerin. In 2018, she was featured in vogue Italia.
Her bold appearance with a bald head has a strong appeal to both sexes across South Africa. The style is often described as chiskop. South Africans are strongly pursuing black beauty advocacy that has seen adverts that describe African hair as dry or damaged pulled down.