Plant-based eating has skyrocketed in popularity in Cape Town over the last few years with trendy vegan eateries popping up everywhere. Although vegetarian food has been quite easy to come by for quite some time, it is only of late that vegans have had a variety of offerings to choose from that did not include flash-frozen microwave meals and imported snacks. It is no easy feat to rank the vegan restaurants in Cape Town, here is a closer look at some of the most popular eateries in the city and surrounds.
The Kind Kitchen

With outlets in both Woodstock and Constantia, it is not hard to see why The Kind Kitchen has become one of the most admired vegan outlets in Cape Town. The mantra of the kitchen is 'to be kind' and this is incorporated throughout the entire business structure. The menu is seasonal and is filled with a tantalizing array of tacos, wraps, salads, and smoothies. Some of the most popular dishes to indulge in include the Badass Cheese Burger, Avo HellsYeah Sandwich, Black Bean Burrito, and a peanut butter pie that is absolutely to die for! The menu also boasts a large variety of cold-pressed juices with attention-grabbing names such as Happy Beets, OJ Pimpson, and Kale Town. While bookings are recommended during peak times, they aren't necessary although it is important to note that the Woodstock branch is closed on Sundays and the one on Constantia, on Mondays.
252 Albert Rd, Woodstock, Cape Town
Plant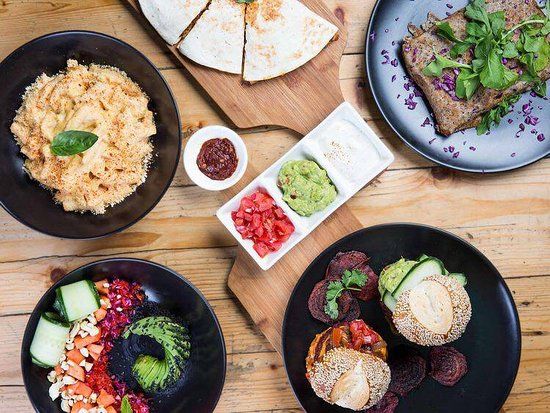 Plant started out as a humble Bo-Kaap Café and grew into a world-renowned gourmet vegan restaurant in the heart of the Cape Town CBD. The restaurant, which was first established in 2013 not only caters for vegans, but diners with an array of food intolerances as well. The eatery strives to continuously educate people on the benefits of a plant-based diet. They are also extremely dedicated towards assisting charitable causes and donate a percentage of their profit to various charities. Plant's menu is varied and filled with an array of savoury and sweet dishes as well as drinks. Patrons can opt for dishes including a light and healthy Buddha Bowl, a hearty bowl of Dirty Mac & Cheese, or an Exotic Mushroom Rice Paper Bowl before choosing an indulgent dessert such as a decadent chocolate brownie, lemon meringue, pannekoek, or traditional koeksisters.
8 Buiten Street, Cape Town
Lekker Vegan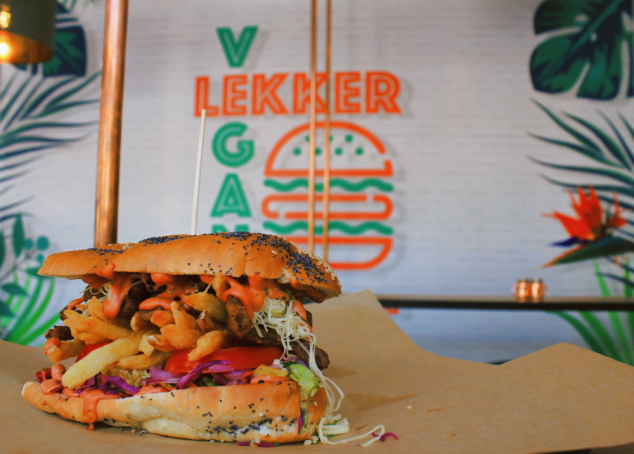 The Lekker Vegan eateries are as popular among omnivores as they are among vegans. The set-up may be informal (you place your order at the counter before having a seat) but the food is every bit as delectable as you would expect from an upmarket eatery. The menu is filled with a variety of finger-licking good plant-based fast-foods including burgers, wraps, and bowls. The Lekker Gatsby is a frim favorite among locals and visitors alike and can be made with vegan beef, chicken, or a mix of the two. If you have a sweet tooth, indulging in a vegan apple pie or slice of chocolate cheesecake is an absolute must, especially if you wash it down with a glass of ice cold kombucha. Don't feel like making the trip to one of the outlets? No problem as you can order your favorite Lekker Vegan dishes from Uber Eats!
Palmhof Shopping Centre, 105 Kloof Street & 37 Barrack Street, Cape Town
The Sunshine Food Co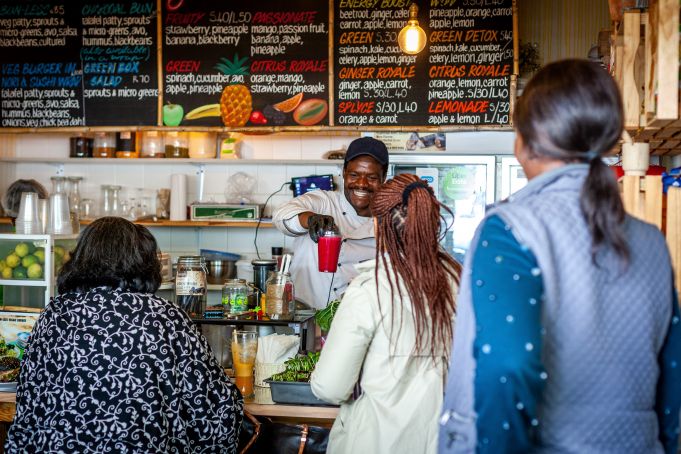 The owner of The Sunshine Food Company, Elisha Madzivadondo, started out by selling his delectable vegan burgers at a variety of markets all across Cape Town before finally opening his restaurant in the sought-after neighbourhood of Sea Point. The tiny, bright-yellow eatery is known to make some of the best vegan fare in the city with the giant burgers being particularly popular. The burgers are made with a homemade vegan patty that is topped with black beans & micro greens and served on a black activated-charcoal bun. If burgers aren't your thing, however, you can choose from a variety of other dishes such as falafel balls served in a tahini sauce, a sushi-inspired veggie-ritto, and a range of freshly made smoothies that are to die for!
6 Main Road, Sea Point, Cape Town