Egypt moves 800 artefacts to Grand Egyptian Museum
Grand Egyptian Museum to open partially in 2018.
A total of 778 ancient artefacts will be moved from Luxor in southern Egypt to the long-planned Grand Egyptian Museum (GEM), which is currently under construction near the Giza pyramids in southwest Cairo.
A highlight of the relics is a four-ton statue of King Amenhotep III, believed to be the grandfather of King Tutankhamun, which is around 3,500 years old and was discovered in southern Egypt in 2009. The statue portrays the king wearing the double crown of Egypt, which is decorated with a uraeus, an emblem of supreme power.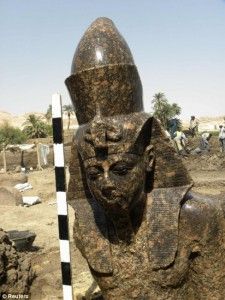 The artefacts were previously stored in archaeological galleries in Luxor, as well as in archaeological storehouses in Esna, south of the pharaonic city. The trawl is a boost to the mega project which has encountered difficulties over the years due to funding delays.
Billed as the largest archaeological museum in the world, the museum of ancient Egyptian artefacts is to be managed internationally and is scheduled to open partially in 2018.
Also known as the Giza Museum, it will house 50,000 pieces, of which 30,000 have never been on public display. It is designed by Heneghan Peng an Irish-based architectural company which beat more than 1,550 other entries to win the international competition to design the museum in 2003.
The world-class museum is located on a 50-hectare site two kms from the Giza pyramids and will be able to host up to 15,000 visitors per day.
Meanwhile recent digs at the tomb of Tutankhamen, discovered by British archaeologist Howard Carter in 1922, suggest that the burial chamber may contain a secret second tomb, possibly belonging to the legendary Egyptian queen Nefertiti, according to a report in National Geographic.