Egypt publicly displays dozens of mummy coffins dating thousands of years
Another trove of archeological relics has been uncovered, around 80 coffins that date back 2500 years at Saqqara, a few weeks after 59 others were discovered from another ancient necropolis.
Authorities give the location of find at the necropolis near the ancient city of Memphis. 2020 has seen record archeological discoveries of historical relics in pristine condition dating back thousands of years.
تمثال للإله نفرتم أحد القطع الأثرية التي اكتشفت مع التوابيت الخشبية بسقارة والتي سيتم الإعلان عنها يوم السبت. انتظرونا

A statue of the God Nefertem, one of
artifacts discovered with the sealed wooden coffins in Saqqara.
Stay tuned pic.twitter.com/SL97bpxAGO

— Ministry of Tourism and Antiquities (@TourismandAntiq) October 1, 2020
Khaled El-Anany, the Minister of antiquities confirmed the find when he posed with Prime Minister Dr. Mustafa Mabouli.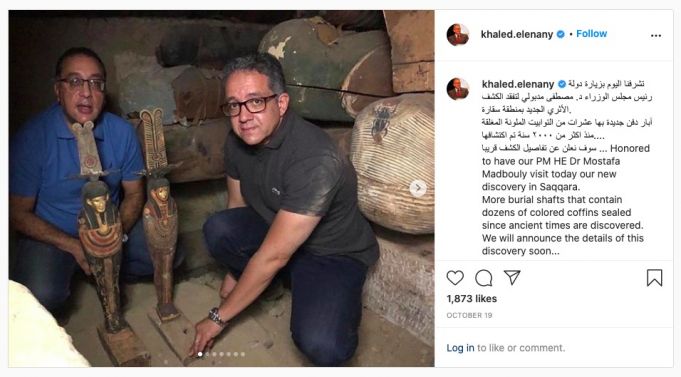 Within were several statues and muzzles which were publicly displayed in front of 60 ambassadors and their spouses in a media spectacle of over 200 journalists and cameras from local and international media houses. In an Instagram share, El-Anany was thrilled saying," I am proud to belong to this ancient civilization, and to work with Egyptian archeologists, who have done so hard to give us this archeological treasure."
Also read: Public Transportation in Cairo
The new sarcophagi were stored in three burial shafts and date back 2,500 years. Part of the archeological find is colored and gilded statues. Saqqara area is known for its rich archeological marvels such as the iconic Giza Pyramids and smaller pyramids like Abu Sir, Abu Ruwaysh, and Dahshur. The ancient ruins of Memphis were designated as a UNESCO World Heritage site in the 70s.
The plateau has a collection of 11 pyramids, from the Step Pyramid, scores of tombs of ancient officials, and sites dating from the 1st Dynasty (2920-2770 B.C.) to the Coptic era (395-642).
Within the coffins are well preserved mummified remains in burial clothing bearing hieroglyphic inscriptions written in bright colors.
Also read: 10 most amazing things to see and do in Egypt
All the buried meet the ancient burial rituals such as removal of the brain using an iron hook. Re-excavations of the site began two months ago when they stumbled across a 36 feet deep burial shaft wherein lay 13 coffins that are fully intact. Excavations proceeded to unravel two extra burial shafts - one 32 feet and the other 39 feet deep. All the coffins are pristinely preserved bearing their original colors. The Minister said that the Covid-19 pandemic did not affect the excavators, hence the remarkable find. All are scheduled for transportation to the Grand Egyptian Museum where they shall be displayed to members of the public.
Al-Asasif necropolis
Authorities in Egypt unveiled 30 wooden coffins and mummies in Luxor dating back thousands of years. This was the largest find in over a century according to the country's Supreme Council of Antiquities.
30 ancient wooden coffins were discovered in the Southern city of Luxor. The ancient archeological relics dating back thousands of years were unearthed during excavations at the Asasif Necropolis. It is believed that the perfectly preserved remains belong to priests, while two smaller coffins hold the remains of children. This was according to the antiquities Minister Khaled El-Anany. A team of Egyptian expert restorers unsealed two of the coffins for the first time
El-Anany said that the country would soon disclose more discoveries. Egypt is on a frantic effort to revive its tourism industry, battered by internal political turmoil and fueled by the global pandemic. The highly-publicized finds are part of the country's new promotion strategy.
لقطة أخرى حصرية من موقع الكشف الأثري الجديد بسقارة، الدكتور زاهي حواس داخل بئر عمقه ١١ متر ليرى هذا الكشف الكبير، انتظروا الكشف قريبا جدا.
Another sneak peak with Dr Zahy Hawas inside the 11 meter shaft admiring the new discovery. Stay tuned for the new discovery in Saqqara soon pic.twitter.com/DwT3mjZqVw

— Ministry of Tourism and Antiquities (@TourismandAntiq) September 10, 2020
Other remarkable discoveries
In April 2017 archeologists unearthed four mummies, colored wooden sarcophagi, and 1,000 funerary clay figurines in a well-preserved cave dating back to the reign of the pharaohs.
In February 2018, Minya which is 250 km from Cairo was visited by a team comprised of Egyptian and German experts who discovered an ancient necropolis with a burial chamber harboring several coffins, mummies, and artifacts. Excavations at that site are expected to carry on for five years. Around the same time, archeologists in Giza unearthed a 4,000-year-old grave with a burial chamber belonging to a Hat Bet, a priestess.
In July 2018 at Sakkara, Southern Cairo, researchers from the University of Tübingen found a 2600-year-old gold-plated death mask. Given most death masks made from silver and gold were robbed in the ancient days by grave robbers, only a few have ever been discovered.
Ph: Euronews
General Info
Address
Saqqarah, Saqarah, Al Badrashin, Giza Governorate, Egypt
View on Map
Egypt publicly displays dozens of mummy coffins dating thousands of years
Saqqarah, Saqarah, Al Badrashin, Giza Governorate, Egypt