The Dadès Valley, popularly known as Gorges du Dadès is located in Southern Morocco.
The attraction lies between Ouarzazate and Errachidia. The place offers a beautiful sight of the landscape, akin to a flourishing paradise. Breath in the rich air as you gaze upon the surrounding lavish green oases and clear blue skies. The city of Boulmane Dades is the gateway to the heavenly paradise. The Gorges du Dadès is right within the heart of the Moroccan Atlas Mountains. Apparently, this spectacular marvel of nature was carved out by the Dadès River.
The winding road within the gorge is a must-drive for every visitor to Morocco. The landscape offers a contrast in weather conditions as snow rests on one area and semi-desert conditions on the other. Normally traffic is scarce but it does get busy during weekends and holiday seasons.
The drive through the valley presents the viewer with a sight of nature's majestic grandeur, accompanied by a pin-drop silence that matches the Grand Canyon experience.
Best picture spot
If you are after those stunning pictures of the Northern African landscape, this is the place. Despite the glam, hype, and euphoria around the Gorges du Dadès, the place offers much more than the marketing razzmatazz.
Prepare for the trip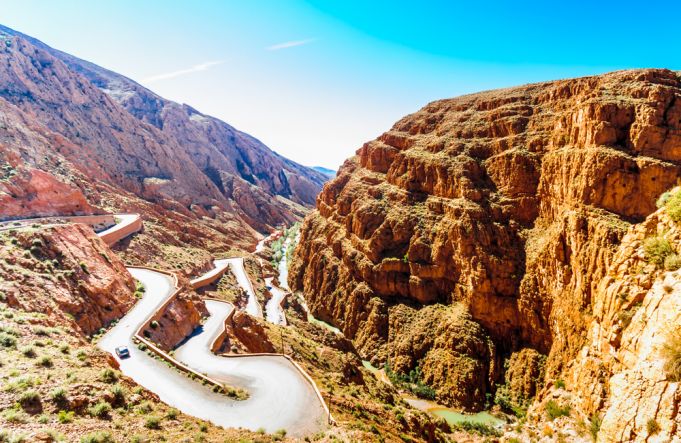 The area is situated in Tinghir Province, right at the administrative region of Drâa-Tafilalet. The road is mainly used for day travel as poor night visibility can easily lead to an accident if the driver is unfamiliar with the thin winding corners. Before you set off on a private rental car or while on a paid tour, have a nausea bag close if you are affected by winding corners. Driving less than 12 inches to the mountainside does not seem like an everyday thing to do.
Directions
It's a paved asphalt road to the Dades Gorge path lying 116 kilometers from Boumalne and 53 kilometers from Tinerhir. The 63 Kilometer road cuts through the Gorge to a place called Msemrir. As soon as you exit that road, you will need a 4 by 4 vehicle to continue the journey. Despite the valley being dry, its condition is very pristine.
At the base of the valley is the River Dades that nourishes a green ecosystem of walnut, fruit, wheat, almond trees, and silver birch. The cascading river overshadowed by the incredible rock formations is a must-see for everyone in Morocco.
Slow meandering road
An aerial view reveals gray windy asphalt snaking around the red mountainous Moroccan countryside. The historical Kasbahs along the gorge form part of the view. After a series of impossible u-turns, the view from the top of the mountains is a sight to behold. During the rainy season, the asphalt surface can be slippery, so proceed with caution.