3 Exquisite Cape Town Beaches worth Visiting this Summer
With Cape Town being the city that consistently boasts the highest number of blue-flag beaches in the country, it is no wonder that thousands of people flock to its sandy shores on any given day – weather permitting. Whether you are looking for a quiet, secluded beach for a relaxing, peaceful day in the sun or prefer a more touristy atmosphere complete with plentiful activities for the entire family, you are bound to find the perfect beach within a stone-throw of the centre of town.
Boulders Beach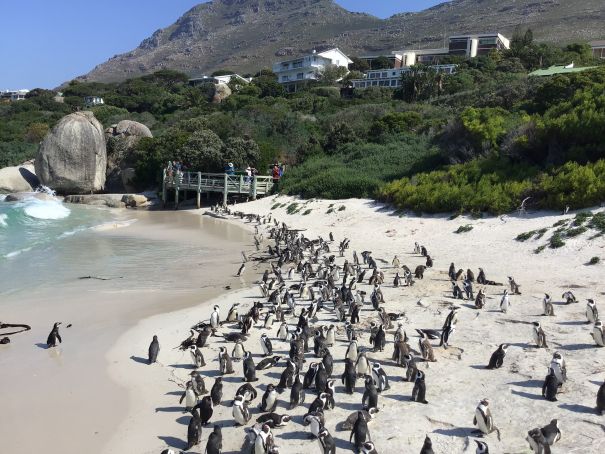 Although Cape Town sports countless gorgeous beaches, there is one that is rated particularly high among locals and tourists alike. Boulder Beach near Simon's Town is, in fact, one of the most popular beach along the entire South African coastline – and with very good reason. Not only is the pristine beach secluded from the nippy southeaster, but it is also home to thousands of African penguins which attract nearly 60,000 visitors to the beach every year. Although you will be able to catch glimpses of the penguins throughout the year, they are most active on the beach during summer with January being the best time to view the young birds moulting on the warm beach sand.
Apart from offering the entire family a safe spot to both swim and sunbathe, Boulders Beach is also accessible to visitors with disabilities thanks to its wide, wheelchair-friendly wooden walkways. To keep rowdy crowds at bay, a conservation fee has to be paid at the visitor's centre to gain access to the beach. While this may seem like a bit of an inconvenience, it is definitely well worth it considering you get to spend a day in beautiful, secure surrounds.
Llandudno Beach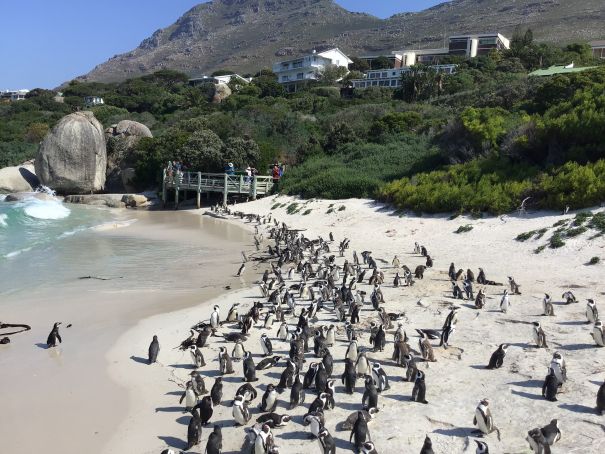 While its name may be a mouthful, Llandudno Beach (which is, in fact, named after a seaside resort in Wales) is undeniably one of Cape Town's finest. Situated a mere 18km from the Cape Town city centre along Victoria Road, Llandudno Bach remains one of the city's best-kept, unspoiled secrets. The beach lays nestled at the base of the mountain between Camps Bay and Hout Bay and although the water is icy at best, it is definitely one of the best spots for sunbathing, surfing, and simply taking in the astounding natural scenery that surrounds the cove. Even just the drive to the beach will blow you away with breath-taking views of the city, the ocean and, of course, the mountains.
As Llandudno is located in an upmarket residential area with very little parking, the chances of you having to face an over-crowded beach are virtually non-existent. While a picnic on the beach is definitely one of the best ways to spend a sunny day, remember to bring along your own refreshments as there are no shops or eateries n Llandudno. You can, however, pop into one of countless shops or restaurants in either Camps Bay or Hout Bay prior to arriving at the beach (or afterwards) to indulge in a variety of delectable treats and even a bout of shopping.
Muizenberg Beach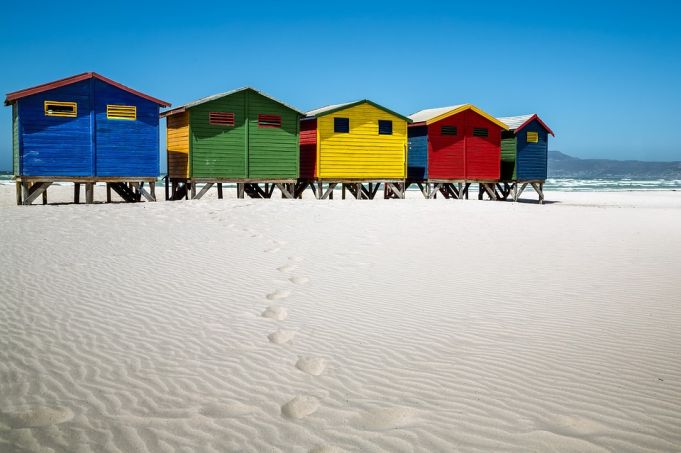 If the quiet seclusion of Boulders and Llandudno does not appeal to you, you can always head on over to Muizenberg for a day of superb family fun on a busy yet clean beach. Probably best-known for its colourful beach huts, Muiznenberg has become a hotspot for families looking to make the most of a gorgeous, sunny day. A typical day in Muizenberg can consist of any combination of swimming, sunbathing, surfing lessons, skateboarding, indulging in delicious food, or people-watching.
Apart from soft white sand and refreshing shallow water, Muizenberg also boasts an intriguing variety of restaurants and coffee shops, surf shops, clothing and craft stores, and interesting historical attractions. When the Cape Town sun becomes too overbearing, take a stroll into the bohemian village to visit the local artist-, crafter-, and designer co-op known as Made in Muizenberg. or browse the intricate works of art at MM Galleries.
Regardless of which beach you choose to go to in Cape Town, you are bound to have a memorable time. With health and safety being a top priority of the City, you can be rest assured that your surroundings will, for the most part, be not only beautiful but safe and secure as well.
General Info
Address
Cape Town, South Africa
View on Map
3 Exquisite Cape Town Beaches worth Visiting this Summer
Cape Town, South Africa